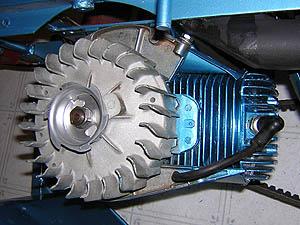 As you can see, even the engine of the Centaur is like new. Jack Blair, a friend in the antique car club who did all the restoration work, bought the Centaur at a motorcycle and scooter show in Pennsylvania about four years ago. He cleaned it up and repainted it, but did not actually do anything to the engine.

However, when I pulled the flywheel and the points cover, everything was in perfect order. The points, which Jack had not replaced, did not show any signs of wear at all! Given the unusual nature of the scooter, it is quite possible that it has only been run a couple of times in its 43-year life!

I went ahead and cleaned up the magneto plates and wiped dust out of the flywheel, then bolted everything back up. I also cleaned and painted a correct Air Cleaner box that came with the scooter. I need to get some new foam for the inside, but that can be had from any lawnmower supply shop.

Tomorrow, I plan to get the fuel hose, cables, clamps, and assorted hardware - there is a good chance that the scooter will be running tomorrow night, or at least by Sunday. Of course, I am sometimes wildly optimistic.